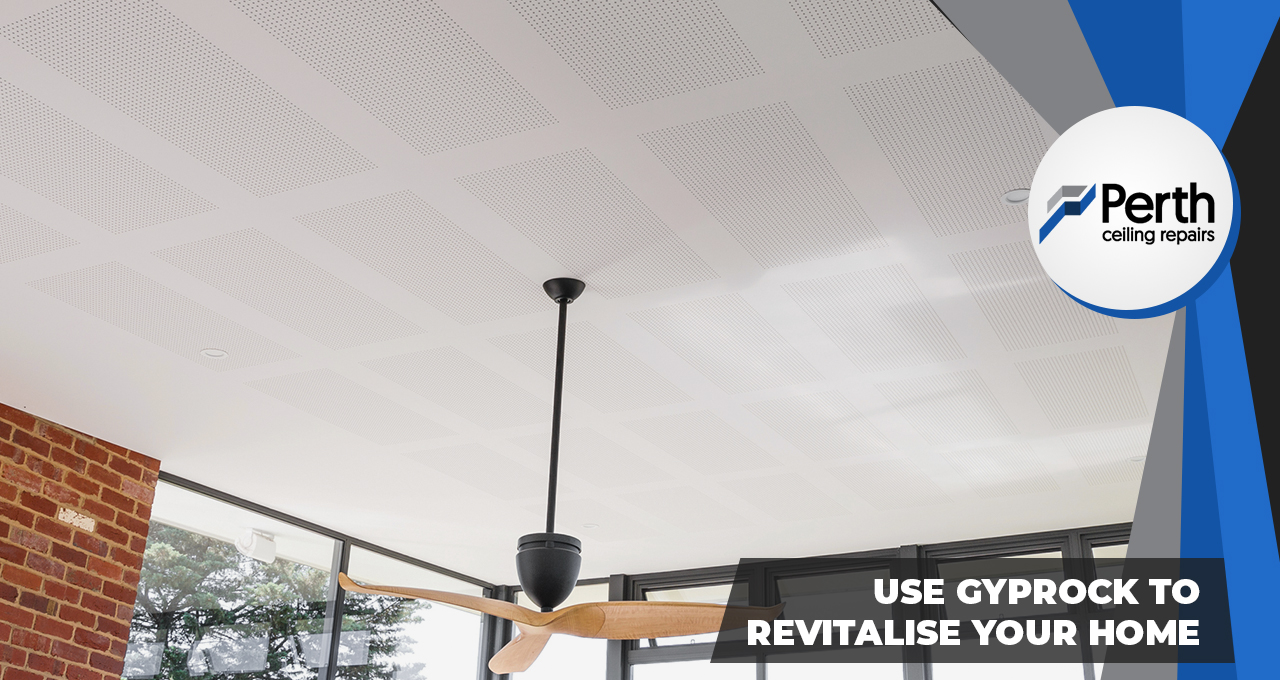 Spruce up your home with by getting a gyprock ceiling Perth. People don't often appreciate just how much walls and ceilings affect the ambience of a house. When you feel like changing up your home, altering the ceilings and walls is a simple way to completely transform the character of a space. However, no matter what the brand or colour, the paintjob will look off if the base isn't well-finished. With gyprock as your base, getting a smooth finish is easy, especially when you recruit the help of quality ceiling installers like our team at Perth Ceiling Repairs.
we provide only the highest quality products for your ceilings and walls and that is why we recommend gyprock. It is frequently utilised in the construction of interior walls and ceilings because it is one of the best materials out there. We guarantee our gyprock installers are all dependable, highly skilled professionals who will make the installation process effortless. Contact us today on 041 421 3006.


The Range of Uses that Gyprock Has
Gyprock is a fantastic material for anyone who is thinking of renovating, remodelling or even just redecorating because it keeps your home looking great while being relatively inexpensive. It is incredibly versatile, and it is a great choice for a wide variety of uses including:
Indoor applications
In both residential and commercial spaces, gyprock can be used to create a smooth finish which is appropriate for a wide range of installations and features.
Insulation
Gyprock has good insulation properties, both in terms of heat and sound
Fire-resistance
because of the makeup of the gypsum, plasterboard can effectively slow down the spread of a fire.
Fixing water-damage
If your walls have suffered any water-damage, gyprock can be used to help through simple installation to improve the outer finish.
It's time to make a change!
Whether it's you indoor or outdoor areas, everyone likes to give their home an occasional touch up every now and then. People do this by changing the décor, altering the layout and replacing the artwork among other things. One of the simplest ways to make a change, and one of the most overlooked, is to do some work on the walls. Gyprock can be easily installed and removed, making it a time-efficient way to completely alter your room.
Some facts about Gyprock
Gyprock is by far the most popular form of plasterboard used in Australia. Here are some facts you should know about Gyprock.
Gyprock (and plasterboard in general) is generally made from a gypsum compound sandwiched between two thick pieces of paper
Gypsum is also known as calcium sulfate dehydrate
Instead of paper, other materials like fibreglass may be used for added strength benefits
Because it is so popular, gyprock can be used to refer to plasterboard in general
Other names for plasterboard include drywall and gypsum board
When would you need to hire gyprocker in Perth?
Gyprock is a great material that can really add something to your home's aesthetic, whether that's a gyprock ceiling Perth or brand-new walls. However, skilled gyprock installers are required to get the best results. A specialist in gyprock ceiling repair in Perth will make sure that the right materials are chosen and that the work is completed in a safe and speedy way.
At Perth Ceiling Repairs, we are experts in wall and ceiling repairs in Perth. We handle gyprock installations of all kinds, handling both commercial as well residential jobs. You also won't need to worry about the magnitude of the job as we will take on any project of any size. If you're in need of a gyprock ceiling Perth, contact us or give us a call today on 0414 213 006.