A water damaged ceiling or leak in ceiling can be annoying and may potentially cause injuries when it suddenly collapses. A sagging water damaged ceiling can also lead to the invasion of pests, formation of mould or potentially cause damage to your floors and walls. Some of the leading causes of ceiling water damage include burst or leaky pipes, an overflowing bathtub and roof leaks. Any source of leaks down to the ceiling will ultimately result in a water damaged ceiling. If you have a water-damaged ceiling, it's vital to seek immediate help from Perth Ceiling Repairs to conduct a prompt inspection and provide the best solution to the problem.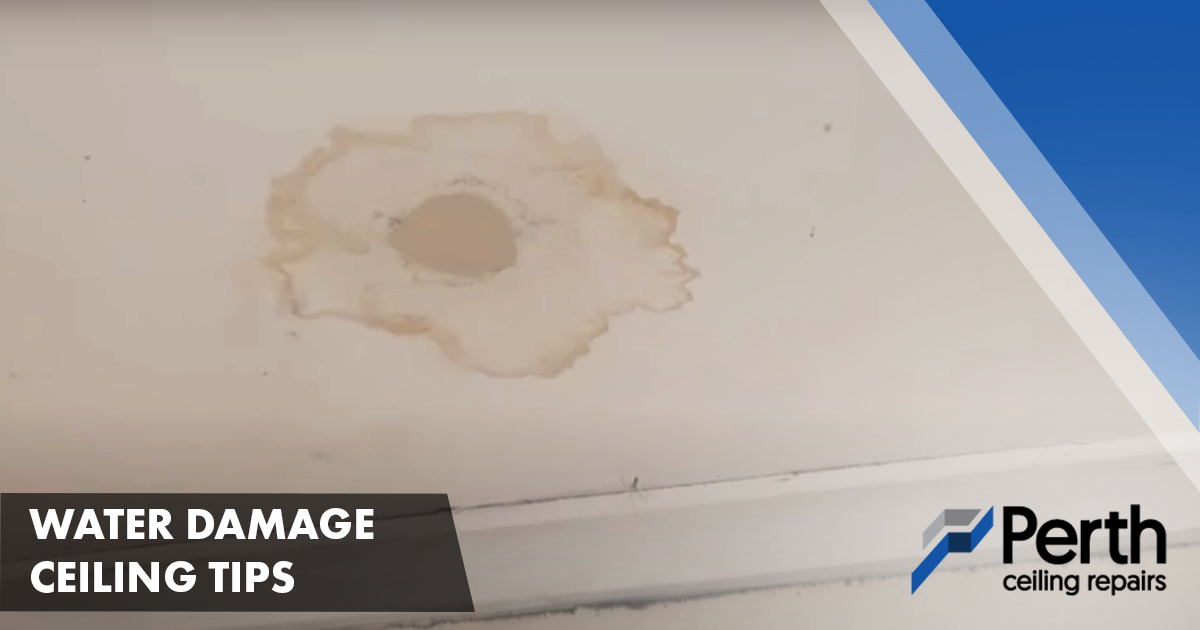 How to Fix A Water Damaged Ceiling
Stop the water source
When your ceiling has water damage, the first thing to do is stop the source of water that leads to further water damage. You need to locate the water source causing the water damage to the ceiling and make any replacements or repairs needed to stop the water.
Dry the affected areas
Once the water source causing the damaged ceiling has been rectified, you can now dry the water-damaged ceiling. Firstly, you need to cover up any furniture and floor in the room to protect them from any debris or water damages. Use materials that you can use to dry the ceiling, including towels and fans. Take time to dry the affected areas in the ceiling to ensure that you have thoroughly dried out the moisture.
Remove the damaged parts or sections
You should wear protective gear equipment, including a face mask and safety goggles, to remove the bulging or peeling water damaged ceiling by scraping the most affected parts. You can also cut the most affected pieces or sections of the water-damaged drywall only and replace the area with a drywall patch.


Should I Replace Or Repair My Ceiling?
Repairing a ceiling
The best way to determine whether to replace or repair a ceiling is by seeking the help of an expert. At Perth Ceiling Repairs, we provide a free quote for the ceiling repair cost and professional assistance to determine the source of the water damaged ceiling. Based on the observation and investigation, we provide the best solution to replace or repair your damaged ceiling. For minor damages, it's vital to repair minor damaged sections rather than fixing the entire ceiling.
Replacing a ceiling
If your water-damaged ceiling has extensive damages, it's cheaper and more efficient to replace the entire ceiling rather than repairing. Replacing the damaged ceiling can prevent any potential injuries to someone when the ceiling collapses. Replacing the ceiling also provides you with an opportunity to create a new look in your space and a chance to fix any other issues, including wiring, lighting and ventilation.
Who to Call For Water Damage On The Ceiling
Water damage is considered an emergency, and immediate action needs to be taken to address the problem. Leak in a ceiling can potentially cause damages to the ceiling, and it's vital to hire a professional, who offers fix ceiling services, ceiling restoration services, ceiling repairs Perth and ceiling replacement for the entirely damaged ceiling. If you search for 'ceiling repair near me', Perth ceiling repairs will be ready to cater to your needs at an affordable ceiling replacement cost. At Perth Ceiling Repairs, we offer professional and complete repair or replacement for water damaged ceilings. To get a free quote and more information about services, contact our reliable support team, who will cater to your needs.