Frequently Asked Questions about Ceiling Repairs Perth
1. Why is my ceiling sagging?
One of the reasons may be due to water leaking from the roof. When this happens, weight accumulates on top of the ceiling plasterboard, pushing it down towards a breaking point where then you can clearly see ceiling sag. Call us at
0414213006
to check on the condition of your sagging ceiling.
2. Instead of repairs, can my whole ceiling be replaced?
Absolutely, yes! There are certain situations where a replacement is a better choice than repairs and could actually save you a lot of time and money. However, before you make a decision it would be best for our team to an inspection for better insight on which choice would be best for you.
3. How much is the cost of ceiling repairs?
The cost of our ceiling repair services varies and will depend on many factors, however, we can guarantee that the prices we offer are amongst the cheapest in the ceiling repairs industry in Perth and that we have been delivering the best value ceiling repairs for over a decade. For more info about our pricing, including a free quote, you can reach us at
0414213006
.
4. Does the ceiling need to be repainted after the repairs?
For a better look and general aesthetic, we recommend that the whole ceiling is repainted to give a consistent look whether that is to match the current ceiling theme or create a new atmosphere.
5. How long does it take to repair or replace a ceiling?
This will depend on the extent of the damage. If it's a minor ceiling repair, it usually it takes about 1-3 hours of work. However, a ceiling replacement or major repair could take around 1-3 days of work. We offer free, no-obligation quotes so call us at
0414213006
for more info.
6. Can my ceiling collapse?
Yes, there are many cases of ceilings collapsing in Perth usually due to reasons like age and lack of suitable maintenance. If you see any signs of a damaged ceiling (for example sagging) then we recommend that you call us right away at
0414213006
.
7. Are you available on the weekend?
Absolutely! Our services are available 24/7 so we can conduct repairs as soon as you need it because we don't want you to wait any longer than necessary to fix your ceiling issues. Call us now at
0414213006
for an immediate response.
Area of Services of Our Ceiling Fixers Perth
At Perth Ceiling Repairs, we are a Perth local-owned business, therefore, if you need the service of ceiling fixers in Perth WA and Suburbs regions, we are always ready 24/7 to go to your place and repairs any kind of issue regarding your ceiling. For detailed info, you can always reach us and we will gladly provide the no-obligation quote for you.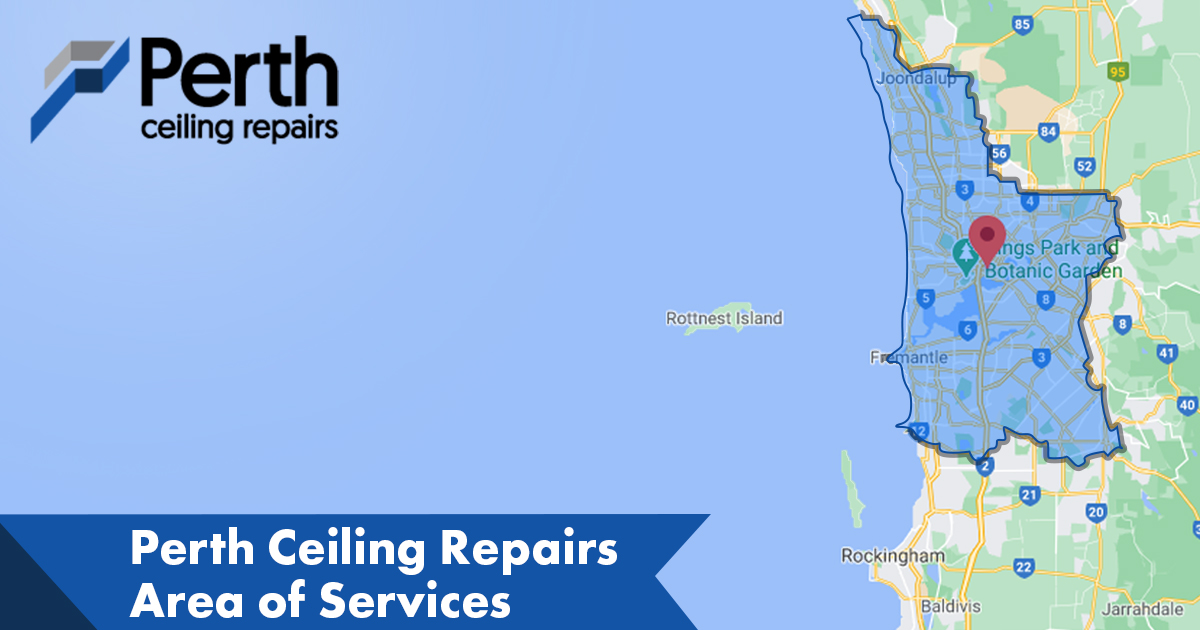 Ceiling Contractors Perth that You Can Trust!
If you're after the most skilled, timely, and reliable ceiling contractors Perth, then there is no better choice than our team at Perth Ceiling Repairs. We provide superior ceiling repairers customer service and high-quality ceiling repairs Perth. We understand that every customer is different and that requirements vary from job to job. It is our versatility and flexibility that give us the edge and allow us to provide the highest standard sagging ceiling repair Perth and gyprock ceiling repair in Perth.
Contact Us Now for The Best Services of Ceiling Fixers Perth
With more than a decade delivering the best ceiling companies in Perth services of ceiling repairs for the residents of the Perth Metro area, we are confident to give you the 100% satisfaction guarantee if you are opting in our services. You can always reach our friendly customer team to provide detailed information about the current ceiling issue that you are having and we will be happy to provide you with a free no-obligation quote, call us now.